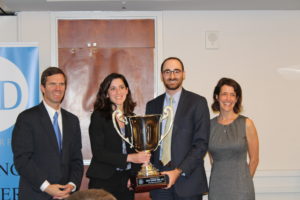 2019
The firm or legal organization contributing the most will win the Attorney General's Cup.  Prizes will also be awarded in 7 categories:  Sole Practitioner, Small Firm, Medium Firm, Large Firm, Law School, Corporate Legal Department and Government Entity.  New this year: an award will be presented to the KBA Supreme Court district that contributes the most!
Winners of the 2018 Kentucky Legal Food Frenzy
Large Firm – Grand Prize Winner
Frost Brown Todd, in Lexington, Louisville, Florence and Cincinnati donated 371 pounds per attorney, 82,365 pounds total.
Medium Firm
DBL Law in Crestview Hills donated 698 pounds per attorney, 22,325 pounds total.
Small Firm
O'Brien Batten & Kirtley in Lexington donated 2,355 pounds per attorney, 11,775 pounds total.
Solo Firm
Hicks & Funfsinn in Lexington donated 30,508 pounds per attorney, 61,015 pounds total.
Corporate Legal Department 
GE Appliances in Louisville donated 76,921 pounds
Government and Public Service
Office of Commonwealth's Attorney, 30th Judicial Circuit in Louisville donated 26,408 pounds.
Law School
University of Kentucky College of Law in Lexington donated 1,170 pounds.
Click here for media coverage of the 2018 campaign winners.
2017 winners
Corporate Legal Department/Grand Prize Winner: GE Appliances Legal Department – Louisville: 33,379
Small Firm – and 2nd place overall: Bryant Law Center – Paducah: 5,537 pounds per attorney (33,223 pounds total)
Large Firm: Wyatt Tarrant & Combs – Lexington and Louisville: 165 pounds per attorney (19,645 pounds total)
Government and Public Service: Fayette Commonwealth's Attorney's Office – Lexington: 16,109 pounds
Medium Firm: Graydon – Fort Mitchell: 386 pounds per attorney (9,640 pounds total)
Solo Firm: The Risk Firm – Covington: 2,063 pounds per attorney (4,125 pounds total)
Law School: NKU Chase College of Law – Highland Heights: 1,610 pounds
 .