Awards will be given in the following categories:
Grand Prize – Attorney General's Cup: total pounds.
Law school: total pounds.
Corporate legal department: total pounds.
Government entity: total pounds.
Solo law firms (1 – 3 attorneys): pounds per attorney.
Small law firms (4 – 10 attorneys): pounds per attorney.
Mid-sized law firms (11 – 49 attorneys): pounds per attorney.
Large law firms (50+ attorneys): pounds per attorney.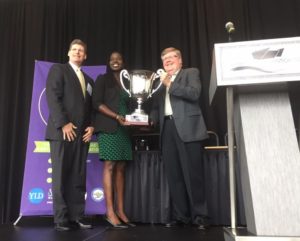 Congratulations to the winners of the 2017 Kentucky Legal Food Frenzy!
Corporate Legal Department/Grand Prize Winner: GE Appliances Legal Department – Louisville: 33,379
Small Firm – and 2nd place overall: Bryant Law Center – Paducah: 5,537 pounds per attorney (33,223 pounds total)
Large Firm: Wyatt Tarrant & Combs – Lexington and Louisville: 165 pounds per attorney (19,645 pounds total)
Government and Public Service: Fayette Commonwealth's Attorney's Office – Lexington: 16,109 pounds
Medium Firm: Graydon – Fort Mitchell: 386 pounds per attorney (9,640 pounds total)
Solo Firm: The Risk Firm – Covington: 2,063 pounds per attorney (4,125 pounds total)
Law School: NKU Chase College of Law – Highland Heights: 1,610 pounds
Click here to see a video announcement of the 2017 campaign winners. Click here to see an overview video of the 2017 campaign impact.
 .